Key Takeaways
73% of the Indian population suffer from back problems.
A good mattress can treat and heal back problems just as effectively as a bad or uneven mattress can cause back problems.
Coir mattresses are rarely recommended by doctors and sleep experts
The two best mattress for back pain in India are memory foam or natural latex orthopedic mattress.
Always consider size, thickness, and materials used in the mattress before buying it for your home.
Anyone who has experienced back pains knows that it is one of the most excruciating and paralzying pains of the body. Statistically speaking, up to 73% of the Indian population suffer from back pains, while 12% of those experience chronic back pains at some point of their lives. Up to 45% of those neglect their back pains for more than 7 weeks and a whopping 62% of patients, who are advised to get surgery, opt for alternative treatments and further delay proper treatment. This is why it is advisable to get the best mattress for back pain in India so as to prevent these issues
Like this wasn't unfortunate enough, enter COVID-19 and work-from-home routines, and we now have an alarming increase in the number of back pain cases in India. According to latest studies, 20% of back pain cases in India accounts to patients from the age group of 16-34.
Since back pains are the most common types of pain, the discomfort from it also gives rise to many sleep disorders and insomnia. And as a result, this disrupted sleep pattern further aggravates the back pain, making it chronic by the day. This vicious cycle puts you in a never-ending bond with back pain until you finally need surgery or other complicated treatments.
So how do we break this cycle? We're glad you asked. Research suggests that the right mattress can effectively resolve back problems and improve sleep patterns to a great extent. In this article, we're going to shed some light on the importance of a good mattress, how mattresses relieve back pains and also give you a detailed list of mattresses for back pain problems. So without any more delay, let's get started on the best mattress for back pain in India.
Importance of a Good Spine Support Mattress
It is an age-old fact that you spend about one-third of your life sleeping or at least trying to sleep. Sleep is one of the most vital functions of the body that provide adequate rest to the mind and body. Without sufficient sleep, the brain will not be able to function properly, all the while also increasing the risk of many psychological and physical diseases. But while a mattress can relieve back pains, the wrong mattress can also cause back pains and disrupt the natural alignment of your spine. This is why you specifically need a spine support mattress.
For a better understanding, here are some signs that your mattress is the root cause of your back problems:
Your mattress is either too hard or too soft : A hard mattress for back pain can cause joint pressure and a mattress that is too soft can hinder the spine from maintaining a neutral position while you sleep.
You wake up feeling tired or experience unexplained body pains in the morning : When you sleep in rigid sleeping positions throughout the night, you are more likely to wake up with neck spasms and back pains in the morning.
You have interrupted or disturbed sleep throughout the night : Tossing and turning all night will contribute to improper and inadequate sleep which in turn contributes to more rigidity in the muscles, joints and back.
Your mattress is old, uneven or saggy : Old, saggy and uneven mattress can directly affect your spine health. Experts suggest that a mattress should be replaced every 8-9 years. This is because mattresses tend to wear out since they are constantly adapting to our changing body weight, bone density and different sleep cycles.
Your mattress is relatively new : If your back pains are a new concern and you have just switched mattresses, chances are your body needs more time to adapt to the new sleeping surface. Give it some more time but keep a close eye on persistent body and back pains.
When it comes to a good mattress for back pains, preference comes first. You may, however, need to consider choosing the right materials that compliments your preference. In response to the above-mentioned factors, here are some things to consider before buying a good mattress for back pain to ensure optimum support and comfort:
Memory Foam or Natural Latex : Most mattress manufacturing companies market coir mattresses as doctor recommended "orthopedic mattresses for back pain" but this is highly misleading. Infact, sleep experts rarely recommend coir mattresses for back pains. This is because a hard mattress for back pain is made with foam and coconut husks which are likely to be too "firm" and uncomfortable. Additionally, these mattresses are heavy and saggy. They may provide some support initially, but they are not durable and become uneven in a few years.
The best back support mattresses are natural latex and memory foam mattresses as they are ergonomically designed to improve sleeping posture, blood circulation and distribute the body weight evenly to collectively give you a good night's rest which in turn reduces back pain drastically.
Mattress Material : Memory foam and natural latex mattresses are two of the best orthopedic mattress for back pain in India. While both of them offer supreme support to the back, you may have to list down some pros and cons depending on your preferences. For instance, memory foam is not ideally natural and consists of polyurethane and some added chemicals that increase its viscosity while natural latex is more eco-friendly and provides excellent air circulation. Memory foam tends to offer better pressure relief while Natural Latex is the best in durability.
Mattress Thickness : Ideally, the best orthopedic mattress for back pain in India are sold in 5, 6, and 8 inches of thickness. What is best suitable for you, depends on your body weight. If you weigh less than 60 kgs, a 5 inch mattress would suit you well. If you weigh between 60-80 kgs, you should opt for a 6 inch mattress. Lastly, if you weigh more than 80 kgs, you should consider going for an 8 inch mattress.
Size :The size of the mattress depends on whether you have a partner. If your partner tosses a lot during the night, we would recommend a double-sized natural latex mattress as it isolates motion transfer. However, if you still want a memory foam mattress, you can opt for two single mattresses and club them together.
Shop the best mattress for back pain in India Now and Pay Later in 3 interest-free EMIs with Dhani OneFreedom
Now that we've covered the importance of a good mattress for back pain, let's move on to the best mattress for back pain in Indian markets.
01 Sleepyhead Original – 3 Layer Ortho Memory Foam Mattress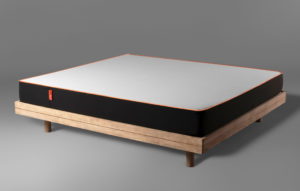 Easily one of the best mattress for back pain in India, Sleepyhead offers a 3-layered memory foam mattress that is neither very soft nor very hard. The medium-firm mattress is not only highly supportive but is also the highest rated mattress in the market today. With a firm support foam base at the bottom, a responsive memory foam in the middle and a comfort foam with breathable soft fabric to top it off, Sleepyhead ensures premium comfort for you and your bed mate. It promotes great motion isolation, relieves rigid pressure points and sores, and offers comfortable firmness. The best part? It comes with a high quality, dust-free, washable outer cover to ensure easy deep cleaning as well!
Bring home one of these mattresses and you're guaranteed to have a good night's sleep for years to come!
Price : These orthopaedic memory foam mattresses range from around 8000 INR to 16000 INR and are available at leading websites.
Sizes : Available as Single, Double, Queen and King with 5 inch mattress, 6 inch mattress and 8 inch mattress in height.
Rated Best Mattress for Back Pain
1800+ positive reviews from customers
Neatly stitched
Provides exceptional bounce
Even weight distribution
Right amount of firmness and density
Not waterproof
Can use only one side
White outer layer is prone to staining if not maintained.
"After a lot of confusion, I chose Sleepyhead. Also I bought the original bed company metal bed. My perfect bed is ready now. 😊😊 Happy to purchase."
02 Wakefit Orthopaedic Memory Foam Mattress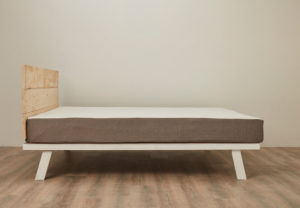 Engineering a superior pressure-relieving design, the Wake-Fit Orthopedic mattress for back pain is built for unique body needs. It contours to each body for personalized support and improves sleep consistently. It is made from pure memory foam that not only targets pressure points but also mimics the exact shape of your body. This helps your muscles, joints and ligaments to deeply relax and heal from daily stress so you wake up feeling refreshed and energized.
It also consists of higher foam density that ensures durability. This is also due to its premium quality GSM knitted fabric that is breathable, dust/mite resistant, and soft. This outer cover can be removed and cleaned regularly in order to extend the lifespan of your mattress.
The Wakefit Orthopedic Memory Foam Mattress additionally comes with a unique 7-Pressure Zone Layer that targets and supports different parts of your body, especially the head, shoulders, back, hips and waist. This layer promotes smooth blood circulation ensuring quality sleep throughout the night!
Price : This mattress ranges from 6000 INR to 15000 INR depending on size and thickness.
Sizes : Available as Single, Double, Queen and King with 5 inch mattress, 6 inch mattress and 8 inch mattress in height.
Flexible and foldable
Lightweight
Hypoallergenic
Temperature regulation keeps you cool even in hot summer nights
Takes up the shape of the body and retains the original shape when the user leaves the bed.
Can use only one side
Not waterproof
"It is a good mattress - Supports body pretty well - It is a medium firm. Little softer than the other popular brands but yet supports the body pretty well. - Do not expect luxury hotels sink-in kind of mattresses (which I personally find uncomfortable). - One interesting advantage that I saw of this mattress is that they can be rolled and packed. Other popular foam mattresses are rigid and moving them around (relocation etc.) is a hassle. Overall, quite satisfied with the product and would never go back to the established mattress brands. "
03 The Sleep Company SmartGRID Orthopedic Mattress
The SmartGrid adaptive technology is a Japanese technology that uses patented hyper-elastic polymer material and is designed to give you the most plush, luxurious feeling whenever you slip into bed. Combine this genius technology with The Sleep Company's high-end plush mattress, and you have yourself the coziest, cloud-like bed that will feel like you are sleeping on clouds. Boasting the title of the World's Most Advanced Sleep technology for your sleep – this smart mattress strategically adapts to the shape of your body and provides softness where you need comfort and firmness where you need support.
The SmartGRID layer comes with 2500 air channels that have temperature neutral technology to help keep you cool during summers and the premium cotton Viscose cover ensures supreme softness. If you're tired of sleepless nights and uncomfortable spasms, it's time to buy the best mattress for back pain in India to combat those pesky back problems!
Price : The Sleep Company SmartGRID Orthopedic Mattress for back pain ranges from 18000 INR to 34000 INR.
Sizes : Available as Single, Double, Queen and King with 6 inch mattress, 8 inch mattress and 10 inch mattress in height.
No sag guarantee for upto 30 years
Hypoallergenic and toxic-free
Extraordinary support and comfort
3 inch Transition layer
Soft yet hard mattress for back pain due to Advanced Sleep technology
Expensive
Heavier than other mattresses
"I bought Sleep Company 2.0 Smart grid 8" Queen size mattress (78"× 60" × 8") in January. It is irresistibly relaxing and I immediately fall asleep within seconds every night I fall onto my bed."
Get instant credit at no interest for your The Sleep Company SmartGRID Orthopedic Mattress with Dhani OneFreedom
04 SleepX Orthopedic Memory Foam Mattress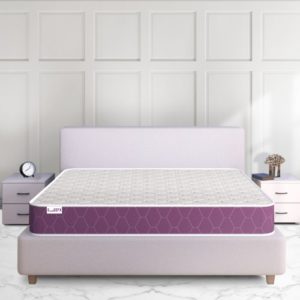 SleepX Ortho Mattresses are built with superior quality materials for premium comfort and long lasting durability. The mattress core is composed of a 15mm Flexi PU high-density foam layer on top and a 25mm cool gel memory foam within that helps contour the mattress to shape shift with you throughout the night. Sporting an unique Airmesh fabric and neem fresche technology, this bed is well protected against dust mites and allergens and also optimum ventilation of moisture and heat, ensuring you sleep comfortably all night.
Ideal for restless sleepers and back pain sufferers, this mattress is the one of the best orthopedic mattress for back pain in India that effectively targets each pressure sores to relax the nerves and heal strained muscles.
Price : The price of this orthopedic mattress for back pain ranges from 8000 INR to around 14000 INR
Sizes : Available as Single, Double, Queen and King with 5 inch mattress, 6 inch mattress and 8 inch mattress in height.
Facilitates zero motion transfer
Superior air circulation and ventilation
Customizable
Neem Fresche technology ensures optimum freshness
Reversible (i.e) Hard mattress for back pain on one side and soft on the other side for stomach sleepers.
"This is one of the best bang for buck foam mattresses available on the market. I did a lot of research online regarding foam and spring mattress and finalized on foam because of its orthopaedic benefits. I got this for just 5.7k for the 5 inches one which is a steal deal. Nowhere outside you'll get for so cheap. Back support is excellent and I am getting real good sleep on this one. Even my parents who were initially skeptical about this "low priced" mattress are singing praises now!! Hope this unbiased review helps."
05 Emma 3 Layered Orthopedic Memory Foam Mattress
India's only mattress that is designed and engineered in Germany, the Emma Ortho 3 layered Memory Foam mattress is neither too soft nor too hard, combining Indian quality and pain-free comfort technology that fits every sleep style. It offers brilliant body adaptability through an impressive combination of a visco-elastic memory foam, a breathable, decompressed Airgocell-Layer, and a supportive layer of polyurethane foam. Its ergonomic and eco-friendly materials and design ensures substantial comfort for all sleepers of all shapes and sizes. It also provides motion isolation to ensure undisturbed sleep even if one sleeper is a tosser.
The Emma mattress is the best spine support mattress if you want an eco-friendly and hypoallergenic mattress along with substantial comfort. With the mattress-in-a-box flexibility, it weighs just 11 kilograms and can be carried around anywhere with ease!
Price : The Price of the Emma Orthopedic mattress ranges from 12000 INR to around 20000 INR.
Sizes : Available as Single, Double, Queen and King with only 8 inch mattress in height.
Lightweight
Perfect firmness
Provides exceptional support and comfort for back and side sleepers
"First of all, I was really amazed to see the extremely compact packing of the mattress. I had never imagined that an 8 inch double bed mattress can be compressed and reduced to such a portable size. The packaging was incredibly practical and impressive. Secondly, the mattress is really very comfortable. I like the way the foam takes body shape when one is resting on it. I have been having much better and deeper sleep since the day I started using this mattress. Kudos to the Emma mattress team! "
Get cashbacks when you buy your Emma 3 Layered Orthopedic Memory Foam Mattress with Dhani OneFreedom
06 SleepyCat Gel Memory Foam Mattress
A mattress that keeps your body temperature regulated, the SleepyCat Gel Memory Foam mattress is made with a premium gel memory foam layer making it a great back and spine support mattress. It also offers a crystal cooling technique to keep you cool and comfortable all night.
The top layer consists of the high-density support foam that ensures adequate support to the spinal curvature, improved airflow inside the surface, and motion isolation.
Sleepycat uses four different layers in the mattress for multi-support – An Anti-skid base with hundreds of rubberized dot-blocks that keeps the mattress in place and prevents it from skidding off the bed. A non-removable fabric cover that protects the foam with an airflow to keep your mattress fresh and clean. A 6 inch durable & supportive high-density foam that helps to retain the shape of the mattress after compression. 2 Inch gel memory foam on the top and a soft zipper cover to facilitate easy cleaning. A good mattress for back pain owes, this gel memory foam mattress will not let you down!
Price : This mattress ranges from 10000 INR to 20000 INR depending on the size and thickness of the mattress.
Sizes : Available as Single, Double, Queen and King with 5 inch mattress and 8 inch mattress in height.
Anti-skid base
Lightweight
Easy to clean cover
Motion isolation
Free from chemicals
Crystal cooling technique
No 6 inch mattress
Some users have reported that the gel technology causes more heating effects than cooling.
"This mattress has exceeded our already high expectations! Fair warning: it's significantly harder to get out of bed in the mornings but so worth it! Highly recommend to anyone on the lookout for a new mattress."
Buy your SleepyCat Gel Memory Foam Mattress now, Pay Later in 3 interest-free EMIs with Dhani OneFreedom
Finance Options Available to purchase the Best Mattress for Back Pain in India
Get instant credit line up to 5L using Dhani OneFreedom card to buy the best mattress for back pain in India at 0% interest.