Key Takeaways
Bluetooth speakers under 2000 are great for people who like to go hands-free during work and study and for music fanatics.
Most bluetooth sound speakers are water, dust and shock proof.
The leading brands for best speakers under 2000 are JBL, boAt, Blaupunkt, and Xiaomi.
Not too long ago, people were swamped with wires all over the place. The work space was entangled with cable wires, the TV unit needed panels just to hide the wires and the poor extension cords held it all together till there was a short circuit. But thank heavens for technology, most of our devices today are wireless.
One such device that has gone wireless with technology is the speaker. If you think about it, speakers have been in trend for as long as time. From horn speakers to boomboxes and from stereo systems to bluetooth sound speakers and airpods, the evolution is remarkable. Today, a good Bluetooth speaker is almost an essential in the house that is also available at really affordable prices. Which is why, in this article, we're going to give you a list of top bluetooth speakers under 2000 that will not only improve the aesthetics of your home but will also turn any room of your house into your personal dancefloor! But before what, let's look into why you need the best wireless speakers under 2000 in your home.
Reasons you need a bluetooth speaker
Even though bluetooth sound speakers are merely meant for leisure, here are some prominent reasons to buy some of the best bluetooth speakers under 2000 :
For hands-free phone calls : Long phone calls may put a strain on your neck, shoulder and wrist. Additionally, many phones heat up and can cause potential damage to your brain and ears. A bluetooth speaker can make these phone calls extremely comfortable by enabling you to talk and hear, hands-free and crystal-clear.
To use it anywhere you go : Most of the best wireless speakers under 2000 are portable, small, and travel-friendly, which means that it can be taken wherever you go.
To share music : With a bluetooth sound speaker, you can easily and immediately share, listen and enjoy music. You can also connect it to your phones or laptops to listen to your lectures, work calls and related conversations, if you are not satisfied with the audio clarity on your devices.
Save space and clutter-free : A great addition to your work station without an extra wire. Simple charge the bluetooth speaker and put away the wires for a truly clutter-free environment while you work or study.
Great sound in a budget : The audio clarity on some laptops may not be satisfactory. And if the clarity is good, it may not be loud enough. If you are a binge-watcher who loves to watch TV series and shows on the laptop, a good bluetooth sound speaker can also have the potential to give you a theater-like experience on your bed!
Get instant credit at 0% interest to bring home some of the best bluetooth speakers under 2000 only with Dhani OneFreedom!
List of Top Bluetooth Speakers under 2000
After a detailed research, we bring to you the best bluetooth speakers under 2000 INR for exceptional sound in your day-to-day leisure activities :
01 Infinity (JBL) Fuze 100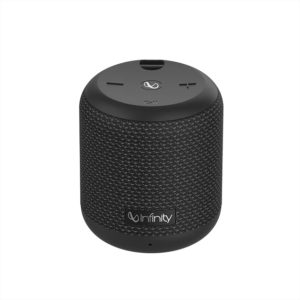 Specifications
Wireless Bluetooth Streaming
Dual Equaliser Modes for Normal and Deep Bass Output.
9 Hours of Music Playtime
IPX7 Waterproof Design
Frequency Response 120Hz – 20KHz
Rugged and Durable Fabric Material
The Infinity Fuze 100 provides unbeatable sound quality with deep bass and precise notes for you to enjoy your playlist to the fullest. The body boasts a durable fabric material that covers the device and ensures substantial protection from dust, water and all your rugged adventures. It comes with an IPX7 waterproof technology that ensures uninterrupted beats under any weather,activity, or party. With 9 Hour seamless playtime, Dual EQ feature, inbuilt microphone and a unique Dual Connect Feature, where you can pair it with another Fuze 100 speaker for double the volume, this incredible device is one of the best bluetooth speakers under 2000 from Harman will keep the party going on for days!
Wireless Bluetooth Streaming
Dual Equaliser Modes for Normal and Deep Bass Output.
9 Hours of Music Playtime
IPX7 Waterproof Design
Frequency Response 120Hz – 20KHz
Rugged and Durable Fabric Material
Sound distortion at loud volumes
"A very good bluetooth speaker in the price range. Overall a very good product. A must buy for people who are travelling frequently."
Specifications 
Power: 10W RMS Stereo Output
Frequency Response of 2.4GHz-2.480GKHz
1,800mAh battery, 7 Hours playback time
Bluetooth: v4.2
IPX5 Water and dust resistant
Built-in microphone
Experience true immersive sound like never before, with boAt speakers under 2000. The boAt Stone 650 bluetooth sound speakers boast a thumping driver of 10W audio, Sensitivity (dB) of 89dB±3DB, and a Frequency Response of 2.4GHz-2.480GKHz, this speaker is as powerful as a stereo system. It has a powerful 1800mAh battery that offers a playback time of up to 7 hours and aIPX5 protection against water and dust.
Its integrated controls allow easy user interface, ensuring that nothing but your dance moves remains between you and your favourite music. It's sturdy body is strong without compromising on design, making it a complete pleasure to flaunt around with!
Loud and clear even at loud volumes
Sturdy and strong design
"Within the 2k price range the quality it's providing is really pleasing. So far I am happy that I've bought this one "
03 Mi Outdoor Bluetooth Speaker (5W)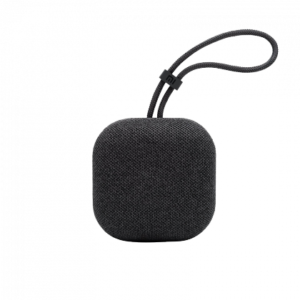 Specifications
Power: 5W output
Battery: 20 Hours
Bluetooth: v5.0
IPX5 Splash Proof
Built-in microphone
Voice assistance
Xiaomi's increasing popularity and customer satisfaction has led it to become one of the best brands for all devices. In terms of speakers, Xiaomi brings to your yet another product of exceptional quality – The MI outdoor Bluetooth speaker. The speaker gives you substantially clear audio courtesy of a 5W power output and a Canadian long fiber pulp vibration film, with a perfect damping system that collectively restrains vibrations for truly natural sound and bass on your favorite tracks. It has a built-in passive radiator that effectively enhances the low-frequency sound effect, bringing out perfect sound texture and great sound quality. The highlight of this product would be its ability to support a whopping 20 hours of uninterrupted music all thanks to its large 2000mAh high-capacity battery! It also comes with a IPX5 rating that makes the device waterproof and resistant to dust. A perfect addition for your outdoor events and activities, this MI speaker is among the best bass bluetooth speakers under 2000!
Outstanding playback time of upto 20 hours
Distortion-free sound even at high volumes
Supports Memory card and AUX
"Very premium design, looks very classy and I'm very impressed with the feel of it in my room. I absolutely love it, the sound is very loud & clear."
Get instant credit at no interest for your Mi Outdoor Bluetooth Speaker, with Dhani OneFreedom
04 boAt Stone 260 4 Watt 1.0
Specifications
IPX5 waterproof and dustproof
Frequency Response : 180Hz-20KHz
1000 mAh battery capacity, 5 hours playback time
Bluetooth Version: V4.1
Bluetooth range – 10m
Another boAt speaker under 2000, the Stone 260 is an IPX5 water resistant and shockproof bluetooth speaker that will perfectly suit your active lifestyle. The body comprises durable silicone and a rubber matte finish that makes it shock proof, and protects it from rough outdoor use. It provides a good amount of bass, crystal clear sound and can also go extremely loud if ever needed. This portable speaker has a battery capacity of 1000mAh, with a charging time of 1.5-2 hours and can effortlessly deliver upto 9 hours of talk time and 4-5 hours of musical extravaganza. The boAt Stone 260 can be paired with all devices that use Bluetooth technology for seamless connectivity and sharing. With beast-like features, this bluetooth speaker can motivate you immensely during your next workout session.
Many designs and colors to choose from.
Easy to hang
One of the best bass bluetooth speakers under 2000
Distortion at high volumes
"The boAt stone 260 boasts a 5 hour battery life, but with my testing, I lasted 7 hours at 70% volume, which, mind you, is very loud. It works great."
05 Portronics Sound Drum POR-871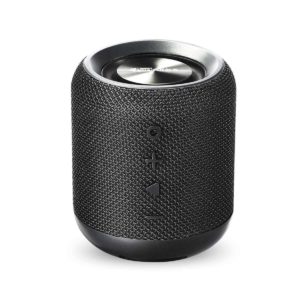 Specifications
Power: 10W power output
IPX6 water and dust proof
7-10 hours of playtime
4.2 Bluetooth version
Bluetooth wireless range of 10m
Speakerphone facility
1-year warranty
The Portronics Sound Drum bluetooth sound speaker lets you experience upto 250% faster and more secure connectivity to make sure you enjoy wireless music, calling, and podcasts seamlessly with no strings attached. With a stylish and sleek black exterior body, the Sound Drum speaker is cylinder-shaped which helps it amplify sound to all corners of the room. It comes with the best, in-class 2x5W in-built stereo speakers with powerful amplifiers so you can experience thumping and distortion-free stereo sound whenever, wherever!
With an IPX6 rating, the speaker stays protected to withstand any rains, spillage and dust. Additionally, the speaker also provides intuitive controls with a pendrive slot, LED indicator and an AUX port. A must-have if you're a sound fanatic!
Long playback time
2 5w inbuilt stereo speakers
Intuitive control and LED indicator
Superior build quality
Limited service and customer support
"Sound is clear and Loud above my expectations ..one of the best speakers under 2000. GO FOR IT BLINDLY! "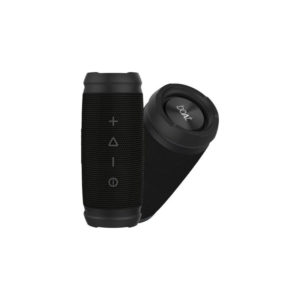 Specifications
Power: 12W RMS Stereo Output
IPX6 water resistant and shockproof
Battery life: 8 Hours
Bluetooth: v4.2
Dual 40mm drivers with passive bass radiator
Built-in microphone
Elevate your party vibes with boAt's Stone SpinX 2.0! It delivers sound from two 40mm Dynamic Drivers which provides a passive bass radiator and crystal clear audio reproduction to amplify sounds to a massive level. The Stone SpinX 2.0 bluetooth speaker boasts an ergonomic, portable and cylindrical design that effortlessly battles rough use with its IPX6 water resistant and shockproof design made from ABS & Fabric Grill. It offers easy access and seamless controls to let you control your playlist in a user friendly way. Furthermore, you can amplify your party scenes with its TWS feature, meaning that you can pair up two Stone SpinX 2.0 devices and forge them into one for much louder and thumping music! Finally, if battery life is a concern, this speaker offers a playtime of up to 8 hours with extended durations thanks to its 2000mAh Lithium Battery! The boAt Stone SpinX 2.0 is a great buy for quality sound at affordable prices!
Battery of 2200mAh supports long play back time
Dual Dynamic 8W 40mm driver
Ergonomic design
"First, the sound is awesome. So if you are searching for a speaker with decent sound in all aspects and in a price range under 2500 then this is for you guys blindly go with it. It is one of the best wireless speakers under 2000!"
Specifications
Speaker Power: 3 Watts
600 mAh Battery, 5 Hours playback
Bluetooth: v4.1
Built-in microphone
8 vibrant colors
JBL Speakers under 2000 is a great catch by itself! The JBL Go has been a crowd favorite being the highest rated product for quality sound everywhere. Your all-in-one speaker solution, the Go is one of the best bluetooth speakers under 2000 that can seamlessly stream music through all bluetooth devices like smartphones and tablets. It is powered by a rechargeable battery that can take up to 5 hours of playtime. It also provides a convenient noise-cancelling speakerphone, which allows you to pick up and continue your important phone calls without turning off the speaker. Available in 8 vibrant colors, its exterior body has a smooth and durable double-injection finishing that can easily compliment anyone's style. It's ridiculously small and portable size makes it perfect to carry wherever you go. In a world where style and audio go hand in hand, these JBL speakers under 2000 are everyone's favorite musical companion.
Extremely portable, square shape build
Good quality sound
3.5mm audio input playback
Noise cancelling microphone
Supports voice assistance
"Excellent JBL speakers under 2000, I really loved it. It is compact and the sound is amazing. It's a fabulous product. Go for it"
Specifications
dual passive radiators
power : 10W output
Bluetooth 4.2
battery life of 7 hours
Scratch and dust proof
4-in-1 functioning – Bluetooth, micro SD, AUX and FM
If there's anyone that knows cutting edge audio technology, it's Blaupunkt! Globally known for its exceptional sound quality and superior design, Blaupunkt's BT-52 is another remarkable bluetooth speaker that offers extraordinary sound with the help of not one, but two passive radiators! That is twice the effectiveness. These passive radiators improve the volume and quality of the sound to ensure you get optimum clarity! It also provides multiple options to play music through – Bluetooth, Micro SD, Aux cable and even FM. Additionally, this speaker also supports a Micro SD card of up to 32 GB.
The Blaupunkt BT-52 is lightweight and compact with a sturdy, strong body that is scratch and dust proof with built in microphone so you can make full use of this device without worrying about rough use! Ideal for your everyday outings and adventures, bring home this speaker for outstanding audio that meets all your needs!
Multiple connectivity options
Supports memory card
Built in FM
Water resistant and not waterproof
Does not support voice assistance
"Let me start off by saying this speaker is one of the loudest if not the loudest portable Bluetooth speakers under 2000 I ever came across. Overall for the price... I am more than satisfied and can easily suggest that you buy one."
Finance Options Available to purchase the Best bluetooth speakers India under 2000
Get an instant credit line up to 5L using Dhani OneFreedom card to buy top bluetooth speakers under 2000 at 0% interest.
Farod hai sale rajuswami941476@gmail.com 9799161952 Dhani One Freedom 2440 10.103.12.134 Mozilla/5.0 (Linux; Android 11; vivo 1907; wv) AppleWebKit/537.36 (KHTML, like Gecko) Chrome/62.0.3202.84 Mobile Safari/537.36 VivoBrowser/6.9.25.2 https://www.dhani.com/wp-json/contact-form-7/v1/contact-forms/9838/feedback September 9, 2021 1:48 am dhani Consult a doctor in 10 seconds https://www.dhani.com user@example.comFarod hai sale rajuswami941476@gmail.com 9799161952 Dhani One Freedom 2440 10.103.12.134 Mozilla/5.0 (Linux; Android 11; vivo 1907; wv) AppleWebKit/537.36 (KHTML, like Gecko) Chrome/62.0.3202.84 Mobile Safari/537.36 VivoBrowser/6.9.25.2 https://www.dhani.com/wp-json/contact-form-7/v1/contact-forms/9838/feedback September 9, 2021 1:48 am dhani Consult a doctor in 10 seconds https://www.dhani.com user@example.comFarod hai sale rajuswami941476@gmail.com 9799161952 Dhani One Freedom 2440 10.103.12.134 Mozilla/5.0 (Linux; Android 11; vivo 1907; wv) AppleWebKit/537.36 (KHTML, like Gecko) Chrome/62.0.3202.84 Mobile Safari/537.36 VivoBrowser/6.9.25.2 https://www.dhani.com/wp-json/contact-form-7/v1/contact-forms/9838/feedback September 9, 2021 1:48 am dhani Consult a doctor in 10 seconds https://www.dhani.com user@example.comFarod hai sale rajuswami941476@gmail.com 9799161952 Dhani One Freedom 2440 10.103.12.134 Mozilla/5.0 (Linux; Android 11; vivo 1907; wv) AppleWebKit/537.36 (KHTML, like Gecko) Chrome/62.0.3202.84 Mobile Safari/537.36 VivoBrowser/6.9.25.2 https://www.dhani.com/wp-json/contact-form-7/v1/contact-forms/9838/feedback September 9, 2021 1:48 am dhani Consult a doctor in 10 seconds https://www.dhani.com user@example.com