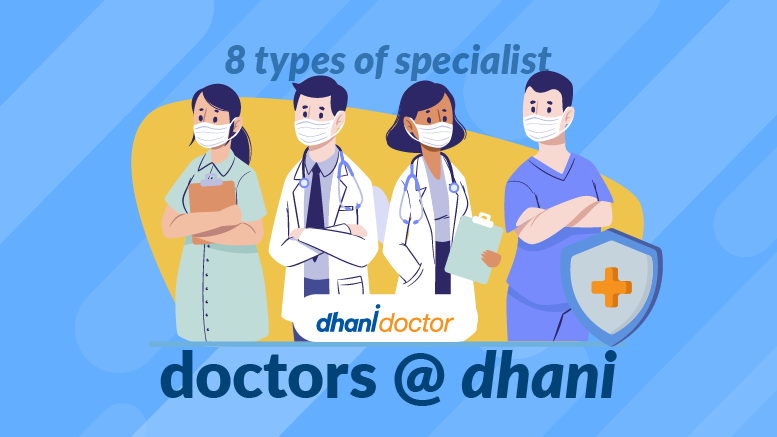 8 Types of specialists at dhani health
Your health is in expert hands!
The COVID-19 pandemic has taken a huge toll on the health decisions of majority of the population. Surprisingly, the decision to self-diagnose themselves and their family members inadvertently puts their health at risk. It becomes a call of duty to encourage them to go digital as healthcare apps have emerged as a boon for all of us in today's era. Understanding the need of the hour, we at dhani health endeavour to focus on patient-centric healthcare services by making them easily accessible through our user-friendly interface.
We believe that when it comes to health, consulting a qualified doctor is the first step towards getting better. Inherent in this belief, dhani health strives to provide quality healthcare by partnering with specialist doctors across 10+ medical specializations. So, whether it is a common cold or something more serious, we have a panel of specialist doctors to help you. Our range of doctors cover the following specializations:
General Physician: General Physician/Family Physician provides comprehensive medical care to each member of the family
Diabetes Care: Endocrinologists treat diabetes and disorders related to endocrine glands and hormones
Hypertension and Cardiac Care: Cardiologists specialize in diagnosing and treating disorders related to the heart and circulatory system
Gynaecology & Women's Health: Gynaecologists focus on medical issues specific to women's health
Gastroenterology: Gastroenterologists deal with problems related to the digestive system
Paediatrics: Paediatrician specializes in treating children ranging from new born to adolescents
Dermatology: A dermatologist is a medical expert who treats skin-related problems
COVID Care: If you have a fever, cough, loss of taste and smell or any COVID related symptoms, consult a COVID CARE specialist in just 10 seconds.
'Our partners in healing – our doctors' are available 24×7 for online video consultations and can connect with you within 10 seconds, which means that they are handy even during emergencies. You can now skip waiting queues as well as save the time spent travelling to a doctor. What's more, you can seek medical advice multiple times on payment of a small monthly fee. We have taken great care to put together a quality panel of doctors with a tremendous amount of experience in specialities.
Together, with the support of 'our partners in healing – our doctors', we forge ahead to create a patient-centric healthcare ecosystem, where our efforts have always been to deliver complete healthcare solutions to each and every individual at any time, at any place.
Key benefits of dhani health
Connect with a specialist doctor in just 10 seconds
Quality Healthcare across 10+ specialities
Unlimited doctor consultations @Rs.150/month First consultation free
Upto 40% off on medicines Doorstep delivery of medicines in 1 hour
To book an appointment for online doctor consultations, download the dhani app now.